Flash Mob For A Healthy Lifestyle: Lviv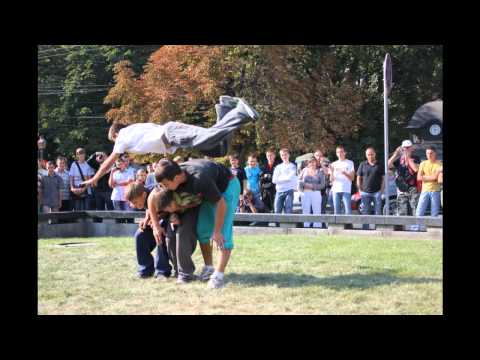 Original Article Here
September 3 in Lviv a flashmob for a healthy lifestyle. Organizers of the rally was a youth initiative SHIFT. At 16:00 in the heart of the city, an area near the monument of Taras Shevchenko was massive vidtyskannya. Around a hundred young people gathered proving that our nation is a strong nation! The boys put together a new record: 30 000 vidtyskan. Each participant was able to make 300 vidtyskan. This is the first time in Ukraine!
This reckless action was open for anyone to join. Among the ranks of the brave boys, as you can see were many brave girls. Also joining in the action with surprise were many traders and watchers. This is not the first time the guys from Street Workout gave us am unforgettable event but this time they surpassed themselves, showing extraordinary acrobatic tricks.
Traders surprised us the art of parkour, and briefly forced us to forget about the existence of gravity.
This event was held to promote healthy lifestyles. Every year in Ukraine from diseases caused by bad habits, thousands of people die. The number grows each year. For children's alcohol – we are the first in Europe! And with bright eyes they continue to promote liberal values. They say who needs a healthy nation? They want the feeble and ridiculous to make control easier. And to these problems they turn a blind eye …
Such actions should draw attention to the healthy future. An example of these courageous young men, not professional athletes, perhaps, mortgages and think about the younger generation to understand that the sport – is the future! Such action makes not be indifferent to the problems of the country!
I want to thank the organizers and all participants. We proved that we are strong and healthy nation. And the future of the country's strong and healthy hands!
Leave a Reply